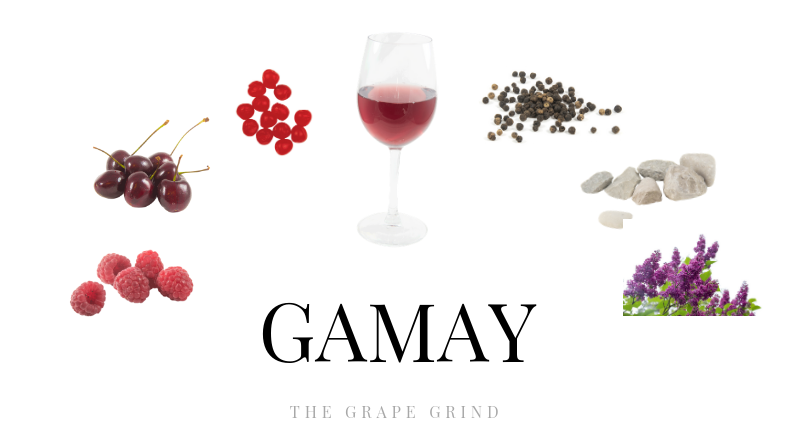 All you need to know about Gamay: A quick guide
Gamay is the signature red varietal of Beaujolais, the most southern sub-region of Burgundy (in France). 
The grape itself is called Gamay, but you will almost always see bottles labeled by the region: Beaujolais, Beaujolais-Villages, or Beaujolais Nouveau. Beaujolais Nouveau is released around the third Thursday of November. It's a special bottle to celebrate the new vintage (year) of the varietal. These wines are juicy, young, and meant to be consumed early! 
Have you ever longed for an inexpensive alternative to Pinot Noir? Grab a bottle of Beaujolais! This is a light to medium-bodied red wine, with intense red fruit, flowers, earth, and subtle spice! The wine will smell incredibly fruity, almost candied, due to a winemaking technique called Carbonic Maceration (putting a bunch of grapes into a tank and filling it with carbon dioxide which allows fermentation to happen within the grape itself)!
The following guide will illustrate what Gamay tastes like (aroma, flavor, and structure). It will also tell you where it's from, provide you with common food recommendations, top producers, similar varietals, and let you know why you should be drinking more of it!!!
How would I describe Gamay?
Bright
Gamay is a varietal that will delight your palate. It has great acid, which keeps you coming back for another sip! This is also fantastic for food pairing! 
Juicy
Gamay generally has very low tannin and balanced body. It's very easy to drink. The fruit flavors are incredibly enticing! 
Fruity
Gamay is known for being fruity! The aroma will bring you candied elements while the palate will bring you intense, sometimes tart, red fruit flavors!
What does Gamay taste like?

These are the most familiar tastes and aromas I typically find in a glass of Gamay. It's also common to find cranberry, strawberry, plum, currant, watermelon, herbs, granite, forest floor, and mushrooms depending upon where the wine is from, and how it is made. Besides red candy, Carbonic Maceration will also give you flavors of bubblegum or banana. 
Remember, wine tastes are somewhat relative. There may be some different tasting notes you consistently find while drinking Gamay.  
There is no "one size fits all" when it comes to structure for every grape, however, there IS a general range when it comes to body, acid, alcohol, and tannin for each. Below are general guidelines for classic representations. Growing conditions and winemaking techniques can impact each of the following.
Medium Body
Think of that weight as a liquid scale, from water (light body) to heavy cream (full body) in your mouth. Gamay is a lighter bodied red wine. Some Cru Beaujolais can be more medium bodied.

Medium Plus Acid
You can judge acidity based on whether your mouth waters after you take a sip of something. The more you salivate, the higher the acid. Gamay has a good amount of acidity. 

Medium Alcohol
You can feel alcohol 'burn' the back of your throat when you take a sip. Gamay has medium alcohol. It's usually lower than most reds. 
Medium Tannin
Tannin contributes to the dryness of a wine. It comes from the skin of the grapes during the winemaking process. You can tell a wine has high tannin if it dries out your tongue. It imparts almost a bitter flavor. Gamay is known for having lower tannins, but Cru Beaujolais may show more!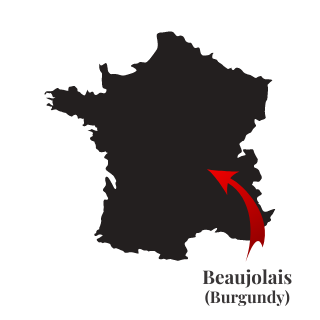 France
Primarily in Burgundy (Beaujolais)
There are not many other places you are going to find this variety in its most delicious expression. Gamay is found Beaujolais which is a region in southern Burgundy. Due to proximity, it would make sense for Gamay to be similar to Pinot Noir in many ways. There are three major classifications to Beaujolais wines. Beaujolais or Beaujolais Nouveau (see explanation above), Beaujolais-Villages (these wines are slightly less tart, with intense fruit, earth, and banana flavors), and Beaujolais Cru (bolder more complex wines with darker fruit and florals). There are 10 Beaujolais Cru's that these bottles will be labeled by. For bolder styles seek out Moulin a Vent or Morgon. For medium bodied styles, try Cote de Brouilly or Regnie. For light delicate styles, try Fleurie or St. Amour.   
You can also find other examples of Gamay from Switzerland, Canada, Italy, and The USA.
What foods should I pair with Gamay?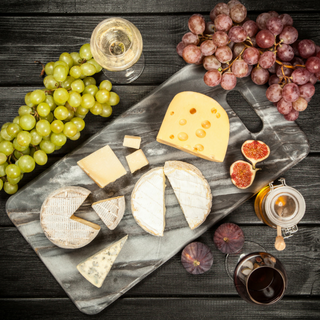 Why?
Gamay is perfect for light meats and cheeses. The light body makes it a perfect wine for light appetizers. It is also great with olives and bread!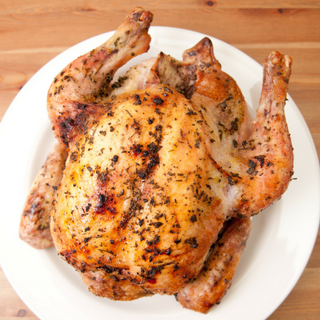 Why?
Gamay is known to be a Thanksgiving wine, perfect with roasted chicken or turkey. It has just enough body to hold up to the meat. Add some herbs and this will complement the herbal notes in the wine!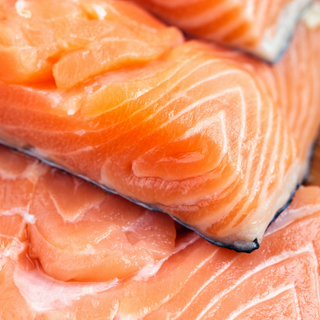 Why?
Light red wines are great with fatty fish like salmon. Since it's low in tannin, this light pairing emphasizes both the fish and the wine. 
Other Pairings: Pork, Sausage, Bacon, Salads, Goat Cheese, Mushrooms, Pizza, Raspberries
What other varieties would I enjoy?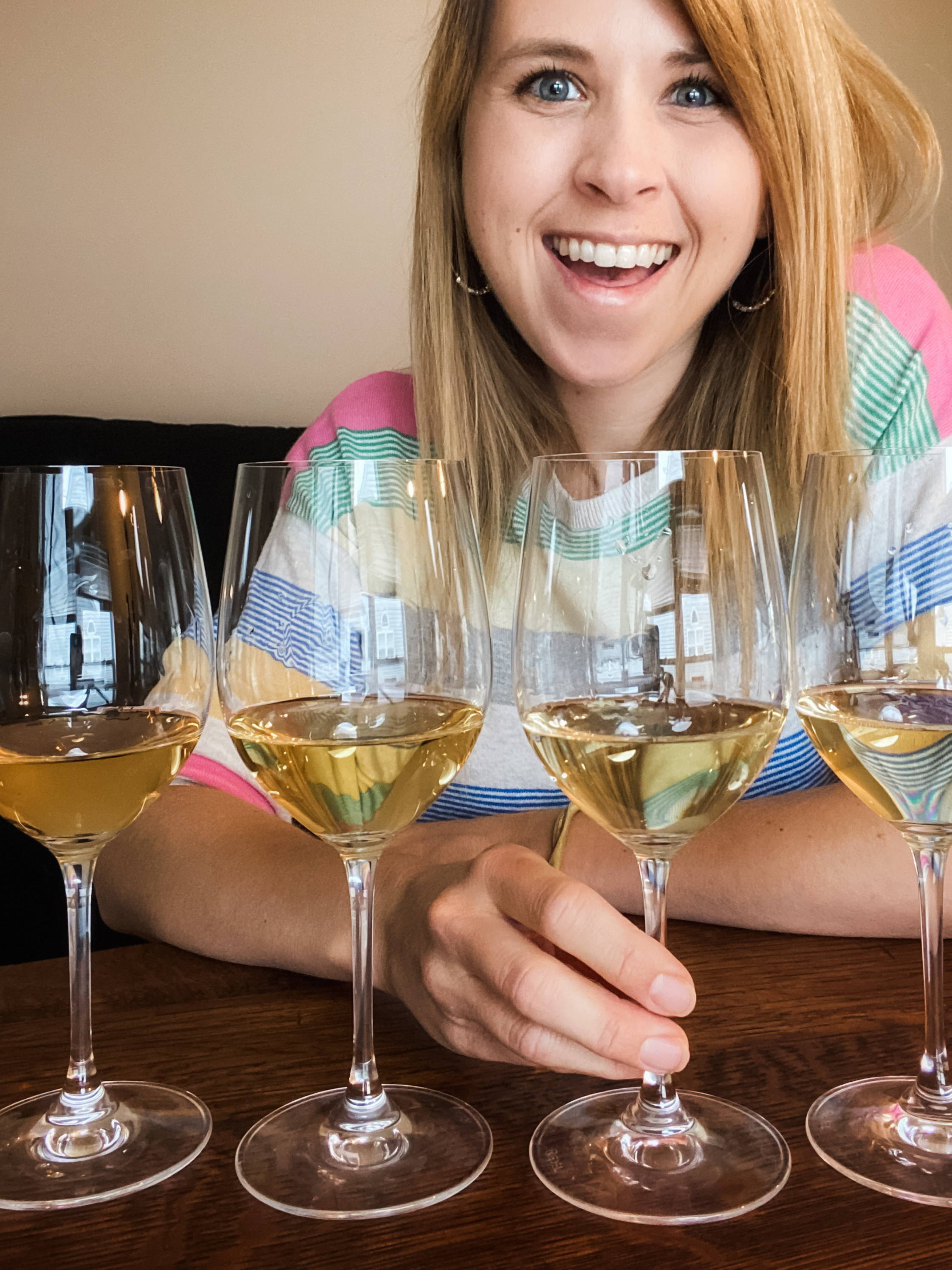 A Certified Sommelier and Certified Specialist of Wine with a passion for everything wine + beverage!