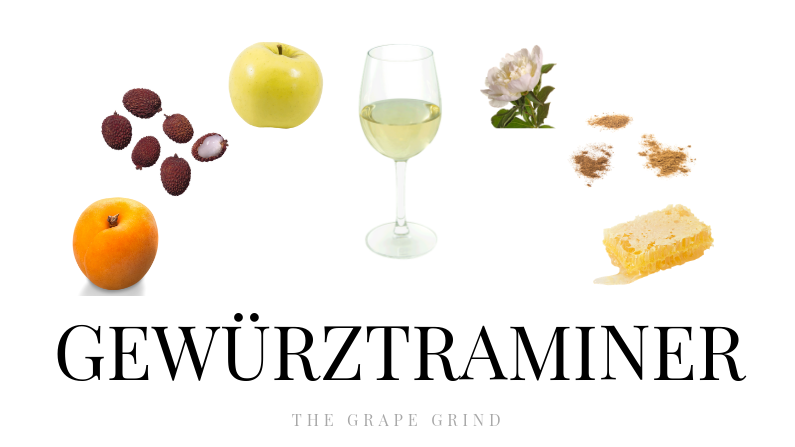 All You Need to Know About Gewürztraminer: A Quick Guide
Gewürztraminer is a pink-skinned white wine variety that is considered very "aromatic". This means it is full of pungent FLORAL aromas and flavors. For many, it's a 'love it or hate it' variety. For me, I have to be in the right mood, but when that mood hits, I'm all over it! It's also pretty fantastic with a bowl of something spicy (I'm partial to Thai or Indian)!
A few more notes on Gewürztraminer:
The finest expressions come from Alsace, France (but there are plenty of other areas that produce wonderful styles

This grape is typically low in acid

Styles can range, but most wines are off-dry (somewhat sweeter in style)

One of the most common tasting notes for this variety is Lychee (a tropical fruit native to China)

This grape is also known to be extremely aromatic (floral) …some relate it to soap, potpourri, or perfume

In France, Gewurztraminer is spelled without the umlaut symbol over the 'u'
The following guide will illustrate what Gewürztraminer tastes like (aroma, flavor, and structure). It will also tell you where it's from, provide you with common food recommendations, similar varieties, and let you know why you should be drinking more of it!
How would I describe Gewürztraminer?
Aromatic
In wine talk, this typically means floral. This grape is known to be incredibly pungent. Think potpourri or perfume! 
Exotic
Along with the florals, the wine often displays a lot of tropical fruit as well as spice, making for a very intriguing aroma and taste!
Viscous
Fuller bodied and typically higher in alcohol for white wines, this variety can often appear thick and syrupy in the glass. Sometimes residual sugar can play into this! 
What does Gewürztraminer taste like?

These are the most familiar tastes and aromas I typically find in a glass of Gewürztraminer. It's also common to find pineapple, mango, passion fruit, peach, pear, rose, potpourri, tea, cinnamon, clove, allspice, wet rock, and sometimes soap notes, depending upon where the wine is from, and how it is made. The fruit in this wine is often very ripe, sometimes smelling like canned fruit! 
Remember, wine tastes are somewhat relative. There may be some different tasting notes you consistently find while drinking Gewürztraminer.
There is no "one size fits all" when it comes to structure for every grape, however, there IS a general range when it comes to body, acid, alcohol, and tannin for each. Below are general guidelines for classic representations. Growing conditions and winemaking techniques can impact each of the following.
Medium Plus Body
Think of that weight as a liquid scale, from water (light body) to heavy cream (full body) in your mouth. Gewürztraminer is on the fuller side for white wines! Both alcohol and the presence of residual sugar contribute to this!  

Medium Minus Acid
You can judge acidity based on whether your mouth waters after you take a sip of something. The more you salivate, the higher the acid. Gewürztraminer has very low acidity when it comes to whites. 

Medium Plus Alcohol
You can feel alcohol 'burn' the back of your throat when you take a sip. Gewürztraminer is usually on the higher end. 

Where is Gewürztraminer from?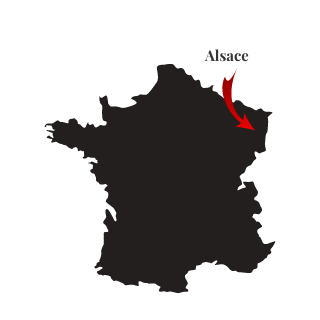 France
Primarily in Alsace
The variety probably originated in northern Italy and is said to be a mutation of Savagnin or Traminer. The name itself means "spiced Traminer". Despite this, the majority and also the finest expressions are going to be found in Alsace, France, where it is spelled Gewurztraminer (without the umlaut over the 'u')!
In Alsace, Gewurztraminer is one of the 4 white "Noble grapes" and is typically made in sweeter styles (but occasionally dry). Many dessert styles are made as well. The character of the grape responds well to the region which is known for diverse soils with good drainage and high mineral content. The wines are usually full and luscious with lots of perfume, ripe fruit flavor, and spice! 
You can also find wonderful Gewürztraminer from Germany (Baden, Pfalz), the USA, Eastern Europe, Austria, Chile, and Australia.
What are the best food pairings for Gewürztraminer?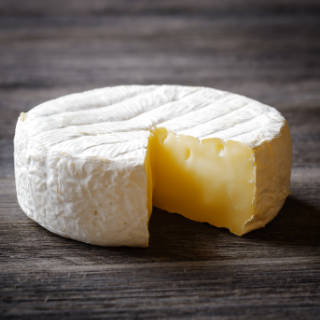 Why?
There is enough richness in the wine to tame the cheese. The aromatics in the wine complement instead of overpower the flavors in the cheese. Stilton Blue and Tellegio are great, but Munster is a classic!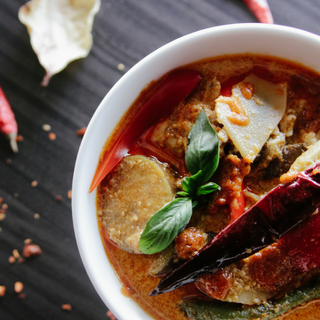 Why?
A touch of sweetness usually tames the heat, also the acid is tame enough to balance the spice in the food. Any spicy dish is a great match, but Thai and Indian are my go-to's!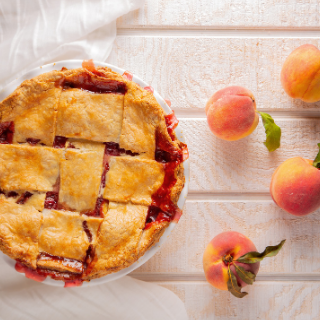 Why?
A wine should typically be sweeter than the dessert it is paired with. Fruit desserts are a tad rich, but also bright and crisp. All of the fruity flavor, plus a sweet note to the wine make a great accompaniment to many of these treats.  
What other similar varieties would I enjoy?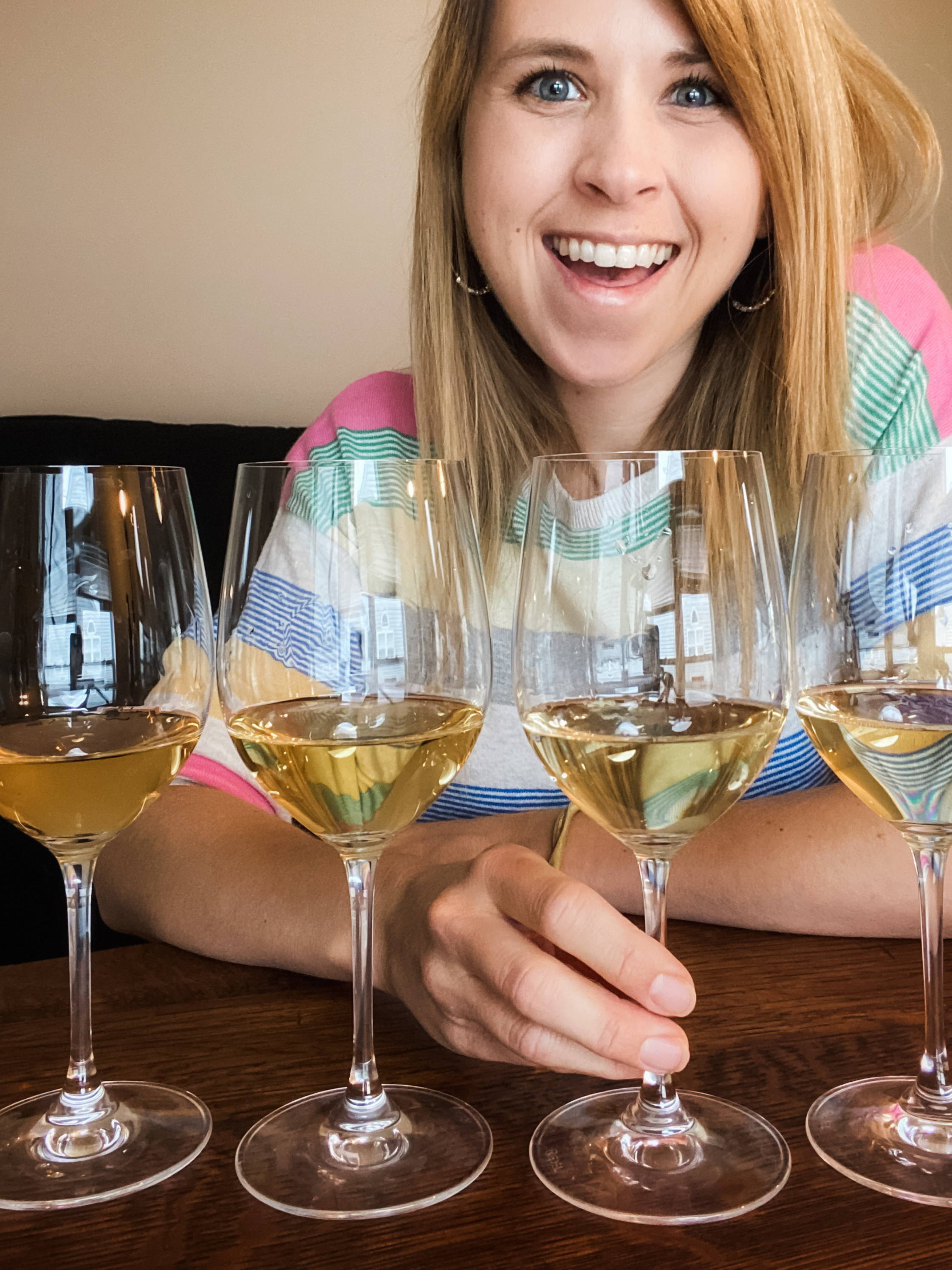 A Certified Sommelier and Certified Specialist of Wine with a passion for everything wine + beverage!