1. Do you have to be a student or can this just be done as a fun monthly activity?
Although this was created with students in mind, it's not an exclusive group. It's ideal if you are studying for a blind tasting portion of an exam, but it's also open to those who want to sit in and learn the ins and outs of blind tasting…or just get started! Whatever your situation, you are welcome!
However, I should also note that this is NOT a class or blind tasting 101.
We will have a great time, but also follow the typical structure of a blind tasting group, breaking down what's in the glass! Ideally, it will challenge everyone, but also be an enjoyable experience, and most of all a safe space to learn and ask questions!
2. Is payment month-to-month or recurring?
Payment is recurring.
Once you sign up for the group you will be emailed a subscription invoice. Once that is paid, your payment receipt will be emailed to you immediately.
In that email will be a link allowing you to switch tiers, pause, or cancel your subscription at any time!
Payment reminders will always be sent, and you are always able to cancel at any point and rejoin later if needed.
3. How large will the tasting group be?
In order to be interactive and allow everyone a chance to more easily talk/connect, we'll start out as a large group but then form into breakout groups of around 6-10.
4. Can I get a bundle but not join the call?
Although there is huge value in tasting with a group, you are absolutely welcome to join the group without joining the call. All Zoom calls will be recorded and sent out to every member after we meet as well!
5. Can I purchase my own bottles and join the call?
Not for this.
Blind Tasting with a group doesn't work well unless everyone is able to compare the same bottles. Also, there are so many styles of a variety and for exam purposes, it's important for a wine to be fairly classic/benchmark. (Not because these are the only "good wines"…but having a baseline of what is classic is helpful because it's what they pull for exams). If you'd like to set up a one-on-one with your own bottles let me know here!
6. Where do the bottles come from?
All bottles are supplied by Lifetime Vintage. I choose bottles from their inventory based on what I think would be the best representation for that month's theme. Lifetime Vintage then curates the bundles and sends them directly to you!
7. Can I use my CMS/WSET tasting method?
Absolutely.
You are welcome to follow whatever grid or format that mirrors your certification (if you have one)! There will also be a guided tasting outline provided (they'll be included in your shipment as well).
*This group is not affiliated in any way with The Court of Master Sommeliers, WSET, or any other certification group, however
8. How does shipping work during the cold winter months?
Shipping starts in a temperature-controlled freight, and the hand-off with the final delivery truck is very minimal. Even then, the wine is usually kept in a warehouse or truck which is rarely at freezing temperatures (if ever).
So far, there has never been a case in which shipping wine results in freezing. The only weather concerns that can happen are related to severe storms, in which the packages may see a little delay. However, these storms are monitored and expectations for delivery times are set appropriately. 
9. Can you join from any of the 50 states or outside of the US?
Only US orders at this time. Orders from the following states are unable to be fulfilled:
Alaska
Hawaii
Mississippi
Kentucky
Utah + Alabama
10. What if I'm still unsure if this is for me?
Join us for a call, no charge to you!
I'm happy to extend a one-time sit-in for you to hang out on the call with the group and see what you think! I promise it's a welcoming environment and I'm happy to let you check it out before you decide to join! Just reach out to me and request a sit-in for the next upcoming group meet that you are able to attend!


1 white and 1 red
Zoom group tasting experience
Blind tasting materials
$75/month – shipping included

3-4 mix of white and red
Zoom group tasting experience
Blind tasting materials
10% off virtual tastings
$119/month – shipping included

Everything from the first two tiers, plus another 3-4 bottle bundle (Two blinds in one month!)
Zoom group tasting experience
Blind tasting materials
One half-hour tasting consult/month
20% off virtual tastings
$205/month – shipping included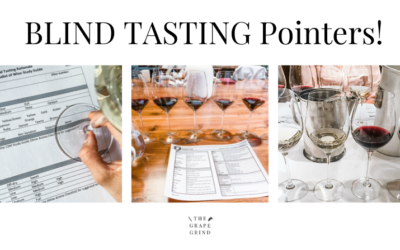 Some of the biggest things I've learned in tasting for exams over the years!
read more