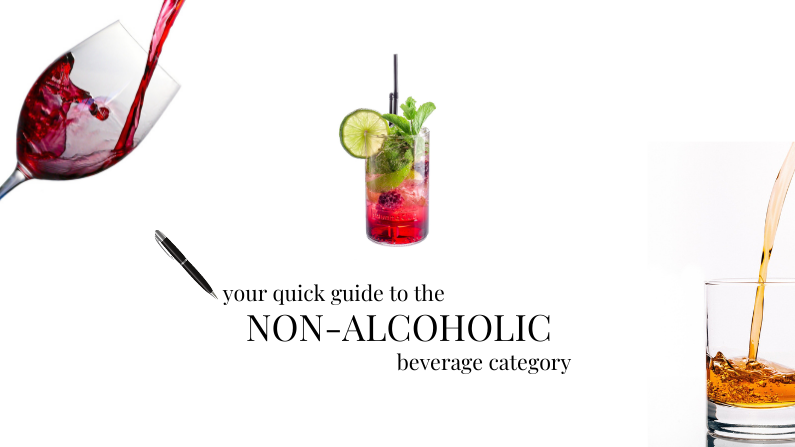 A Round-up of Zero Proof Beverage Alternatives!
I appreciate alcohol.
I've been trained to identify it in wine. I have a hard time when it's not present, and not just for the sweet relief it provides my brain after a hard day of kids/work, but for the textural element and balance it brings to a beverage!
Quarantine came at a pivotal moment for me! I had just made my plans made for what I wanted to accomplish this year in life and my career. Not only did restaurants closing and the industry losing stamina slightly crush my plans, I woke up two weeks later to find out I was pregnant with our third child. Not mad about that. Children are wonderful and I pride myself on being a mom, but I was immediately stuck at home without a job, kids all day, and now unable to unwind or study wine as in-depth as I had wanted! Nevertheless, I found ways to continue pursuing and tasting. Alongside this, I was able to spend the past couple of months diving into the non-alcoholic category of beverages, which is becoming way more present than I initially realized. 
People stop drinking for many reasons, (not solely pregnancy). Mental clarity, medication, lifestyle, losing weight, saving money … are others. "Sober October" and "Dry January" are 'happening', and while I've never taken part in either (except for those months of pregnancy), I can understand why people may want to carve the time.  
So, as we enter one of these months, I've compiled a list of some of my favorites in the category. Many of these alternatives are made with as much care as actual wines and spirits, which is awesome! Restaurants and bars are also jumping on board, which is welcoming a new crowd of consumers that were once merely an afterthought. It's a really great season to imbibe, with alcohol or without …and despite being seriously ready for a Manhattan, I'm embracing this category! So here's my roundup of the NA beverages I have tried and enjoyed. Check back for updates as I continue to explore this category in the upcoming year!
To be quite honest, I had the hardest time with non-alcoholic wine. Basically, if it wasn't sparkling it was hard to keep myself from pouring it down the drain.
How do you make wine without alcohol? Well, the wine is fermented normally, and alcohol is removed via a method called "Spinning". Usually, water and varietal juice (sometimes sugar) are added back to the liquid. Sparkling wines are made the same, but usually with CO2 injected.
The red wines I tasted were all way too off-balance for my palate (but plenty of people might be able to get past this). Some of the whites were decent, but missing any form of 'body'. Sparkling wines have been 'good enough'. They aren't quite wine, but could be a distant cousin?
You'll find a lot more experimentation with these bottles in countries outside of the US, and the best selection I have found  (if you want to try out some options) are BeClink and Wines for Mothers.
My top pick of the bunch and closest to 'the real thing'. This could actually fool some as far as being an alcoholic drink. The flavor and texture are impressive. It's also incredibly inexpensive. But don't be fooled, this is not a take on Prosecco. Secco means "dry" in Italy and the label alludes to it being a NO alcohol/Dry wine! There were legal battles over this. It is certainly dry and fresh.
Find it HERE 
I've had a few of these various bottles. Many on New Years' for both of my previous pregnancies and The Perle Selection (which is a bit sweeter) for our gender reveal this past summer. This selection has rosé and bleu versions. All of the sparkling wines from this specific producer are pleasant in flavor. 
Find it HERE 
I discovered this during my last pregnancy and drank a fair amount throughout the fall! It was perfect for the season. This bottle is actually pretty far from wine, and not made from grapes, but a combination of white tea, cranberry, and ginger. It's an enjoyable beverage and fits the category well enough. Off-dry, with tea-like flavors, and a little bit of spice.
Find it HERE 
These were the most fun for me to explore and taste! Non-alcoholic 'spirits' or what some like to call 'elixirs' are hitting the market hard! There is as much care being put into the production and flavor of these bottles as actual spirits. Many bars are embracing them and using them in quality cocktail alternatives (I'll use that word, as some find the word 'mocktail' insulting). Not listed below is the major driver of this movement, which is Seedlip! Although not meant to mimic a spirit entirely, Seedlip got the ball rolling on this trend, and is used in over 500 restaurants and bars around the world!
Similar to wine, it's hard to pull the textural element that alcohol brings to beverages. Many of the alternatives don't have "the burn" of a true spirit (and taste slightly muted), however, some shined perfectly, especially when used with the right mixer!
Distilled like regular spirits, these are typically made by reducing the alcohol content instead of creating it! They also use ingredient-specific "extraction methods", like steaming, decanting, percolation, and cold pressing.
My favorite of the bunch. Lyres tasted closest to the 'real thing' as far as 'flavor'. This brand is based in Australia and has a range of all the essential "spirits". Gin is labeled 'Dry London', Bourbon is 'American Malt', etc. These can be mixed (they actually have mixer packages), but also taste great on their own or on the rocks. No burn (sadly), but the lingering aftertaste of the 'American Malt' was that great rich charred barrel and spice flavor you'd want from a good bourbon. Not exactly like drinking the real thing, but close enough!  
Find it HERE 
One of the highest-rated spirit alternatives. I don't feel this is meant to drink like the actual spirit 'on its own', but it gives a great impression of the spirit when it's used in a mixed drink! The Tequila Alternative was excellent in a margarita! The difference with this one is that Ritual makes up for the lack of alcohol (burn) with an addition of black pepper, capsicum, and green pepper! A fun element. They are known for their Whiskey and Gin Alternatives as well.  
Find it HERE 
Works perfect as a Martini and awesome with tonic! I had the floral blend, inspired by Gin, which showcases those classic notes of juniper, lime, flowers, and coriander. I was very impressed. The distiller also makes a Spiced Dark Cane Spirit and Smoked Agave Spirit, along with a Raspberry Blend. The products highlight the oils created from various plants/botanicals and are made using hydro steam distillation. 
Find it HERE 
This may be one of the easiest ways to go! They are also less expensive (as some non-alcoholic wines and spirits can be just as expensive as normal bottles)! Mixers are great because they can be used with various seltzers (which I drink a lot of during pregnancy), but also added to regular cocktails if someone else wants to imbibe with the alcohol included!   
Not only do they make great liqueurs, Giffard also makes syrups that can be used to create some fantastic drinks (alcoholic or not). A little goes a long way, but the flavor options are endless. Some of the basic flavors are great to have around! Just a splash in some seltzer makes for a nice pick me up that (to me) is more inviting than soda!
Despite producing countless flavor options, some can be hard to find! Many of the popular mixers can be found at your community liquor store and online at various locations. 
Find it HERE 
Not only do they produce great tequila, but they also create mixers …and probably one of the best as far as taste and quality of ingredients! (Otherwise, I'm all for the fresh-squeezed lime and simple syrup!) Certified organic and sweetened with pure agave! 
Find it HERE 
This is another beverage made with tea as a base. In fact, the company also makes boozy tea! There is a variety of non-alcoholic mixers with the option of adding either a spirit or seltzer (for non-alcoholic). We tried the Wicked Margarita with green tea, lime, and jalapeno. It was fun to experiment with both seltzer and tequila! They also have mixers for Pina Coladas, Manhattans, and Mulled Wine! 
Find it HERE 
This is the pop open/pour and 'be done with it' category, which is one of the easiest routes to go with beverages! Many of these are more like an alternative to soda, as well as something you can grab during the daytime hours! 
This has been my go-to for the last couple of months. I personally love the 'bitters' category of beverages, and this tastes just like a Campari Spritz, making it a great aperitif! Also great for digestion (which is appreciated these days). The company makes both dry bitters and soda, and a spritz (which is a touch sweeter). 
Find it HERE 
On the sweeter side, these drink like spritzy juices …but with a little something extra! I've been drinking them for years. The company is incredibly big on 'Elderflower', although they also make a fantastic Cucumber Lemonade and Ginger Beer. 
Find it HERE 
I enjoy these drinks because they are "bubbly", but not overly sweet (at least the larger format bottles). I've had my fair share of the pineapple and watermelon. They are also incredibly easy to find!
Find it HERE 
I still feel as though I haven't scratched the surface here and certainly have plenty more to try. 
As mentioned before, there are a lot of reasons to love alcohol, but also many reasons to want a break from it. Though wine is my biggest love and passion, I also appreciate the beverage world in its entirety. 
So cheers to this evolving category! Be sure to check back for updates!
↑ Some of the links above are Amazon affiliate links, which means that I will earn a commission if you choose to purchase them. I will never recommend anything that isn't valuable or useful in my wine study journey, or something I have no experience with. I hope these products/resources are equally helpful in your wine journey.