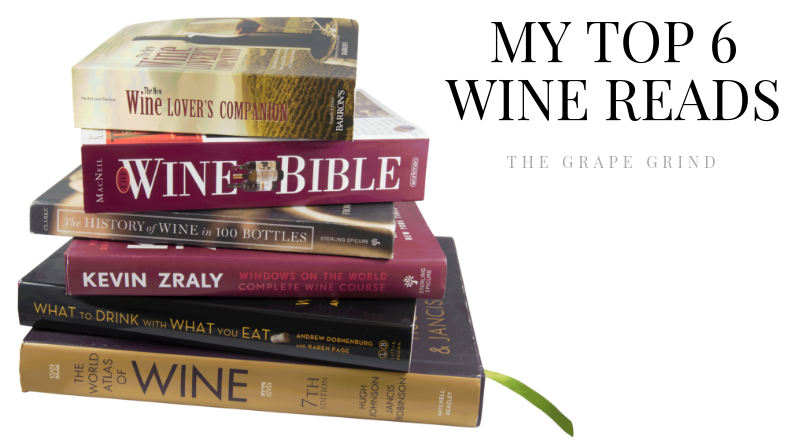 6 of the BEST Wine Books to Own
When I first started working in the service industry, I was surrounded by really intelligent wine people. I longed to know as much as some of the Sommeliers above me. Once I started diving into the world of wine, books were my best friend. I was (and still am) constantly looking for books that would inspire me and teach me, but in a way that wasn't snobby or overbearing. With the exception of Wine for Dummies (which I never owned, but pawed through a whole lot), here are 6 books that will either motivate you to start learning about wine, or help you build upon your existing wine knowledge. They are my favorites to this day!

The Wine Bible
by Karen MacNeil
This book is very appropriately titled. It's HUGE and a little daunting, but it's oh so inspiring. This book seems to have every detail on every region, as well as every type of grape! Anything you have ever wanted or needed to know about wine can probably be found in this book.
…Also, I should mention that the first edition of this book is more in depth (and generally nicer quality) than the 2nd edition.
Find it HERE
Windows on the World: Complete Wine Course
by Kevin Zraly
I was in a local Tastings restaurant studying my notes, when the bartender pulled out this and handed it to me. I wish I had known about it when I was first getting into wine. It is written by a teacher and wine mentor who outlines the book in a very clear and organized fashion. He highlights just what you need to know about each region, and illustrates it with fantastic maps and charts. It's a wonderful place to start your wine journey.
Find it HERE
The World Atlas of Wine
by Hugh Johnson and Jancis Robinson
This was a birthday present I didn't even know I needed. MAPS. Maps of everything. Big and little wine maps and VERY detailed information on regions. This is a good one if you are looking to do some in-depth studying of a specific wine region. Definitely for advanced wine study.
Find it HERE
The New Wine Lovers Companion
By Ron Herbst and Sharon Tyler Herbst
Packed with 4,000 wine terms listed from A-Z. This proves to be exactly what it's titled: A companion. It's something to have with you when you need to look up what the heck 'phenolic compounds' are …or what grape is used in the Gavi DOCG region!
Find it HERE
The History of Wine in 100 Bottles
By Oz Clarke
This book is SO much fun. It outlines the top 100 bottles that have had the biggest impact on the evolution of wine in the world. Each page has a different topic and wine. It's beautifully illustrated and filled with fun facts. You'll get hooked pretty quick. I finished this one in a matter of days.
Find it HERE
What to Drink with What you Eat
by Andrew Dornenburg
I was looking up The Flavor Bible one day, after hearing about if from a chef I worked with, and I stumbled upon this as well! What a find! This is a great guide for ANYTHING food or beverage you plan on pairing! You can search for foods from A-Z and find out what beverages best pair with them, or search beverages from A-Z and find out what foods best pair with them. This is perfect for when I'm making a new recipe and need to know what wine is going to match it best!
Find it HERE
↑ Some of the links above are Amazon Affiliate links, which means that I will earn a commission if you choose to purchase them. I will never recommend anything that isn't valuable or useful in my wine study journey, or something I have no experience with. I hope these products/resources are equally helpful in your wine journey.