Looking for a tasting group? We have one!
Tasting Group mimics a tasting group setting but veering away from the "stuffy" reputation.
Members learn from others in a setting that isn't overly intimidating but inspiring!
I've been involved with and have had experience leading blind tasting groups in person…and I'm so excited to bring this sort of thing VIRTUAL!
This group is a service and an opportunity to taste blind with a group!
This is invaluable if you are studying for an exam, but also helpful if you'd like to know the ins and outs of identifying certain varieties without bias.
Members receive tasting bundles monthly, depending on the chosen tier below. Bundles are carefully curated and usually follow some sort of theme (blends, low vs high acid, etc). Almost all of the time these are classic "testable" varieties, but occasionally there's something incredibly fun and outside of the box, thrown in. Why? Because it's exciting and we sometimes need reminders as to why we love the versatility! But, like I said, typically classic and always great quality!

1 white and 1 red
Zoom group tasting experience
Blind tasting materials
$75 $65 shipping included

1 white, 1 red, and 1-2 more in addition
Zoom group tasting experience
Blind tasting materials
10% off virtual tastings
$119 $105 shipping included

Everything from the first two tiers, plus another bundle (Two blinds in one month!)
Zoom group tasting experience
Blind tasting materials
Free half-hour consults monthly
20% off virtual tastings
$205 $180 shipping included
You'll have the option of jumping on a member call over Zoom at the beginning of the month to blind taste with others and talk about the wines and the related theme. Wines will be blind tasted in groups of 8-10. Groups will be composed of various tasting levels and certifications. Ideally, there will always be a few people within your certification or at your level!
This is NOT an exclusive group. It's ideal if you are studying for a blind tasting portion of an exam and it's also open to those thinking they want to learn the ins and outs …or just get started! Whatever your situation, you are welcome! However, I should also note that this is NOT a class or blind tasting 101. It will follow the typical structure of a blind tasting group. Ideally, it will challenge everyone, but also be an enjoyable experience, and most of all a safe space to learn and ask questions!
While in breakout sessions, you can volunteer to make the calls! If no one volunteers to make the calls, it will be split into sight, nose, palate, and conclusion, and everyone in the group will take portions. After that, everyone will regroup, the theme will be revealed, and we'll follow with some conversation and connecting! It will be a safe place to taste, talk, learn, and contribute!
You are welcome to follow whatever grid or format that mirrors your certification if you have one! Also, there will be a guided tasting outline provided (we'll include them in your shipment as well).
*This group is not affiliated in any way with The Court of Master Sommeliers, WSET, or any other certification group
If you have any questions about the group, format, flow, etc. as of this point OR If you have done some blind tasting previously and would like to volunteer to lead a breakout group, please connect with me HERE!
Thank you so much! Hope to meet you and taste with you soon 🙂
-Kendeigh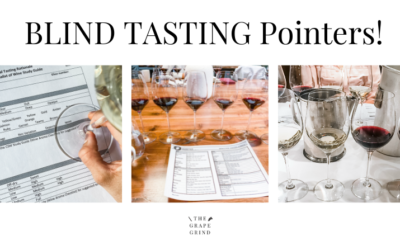 Some of the biggest things I've learned in tasting for exams over the years!
read more