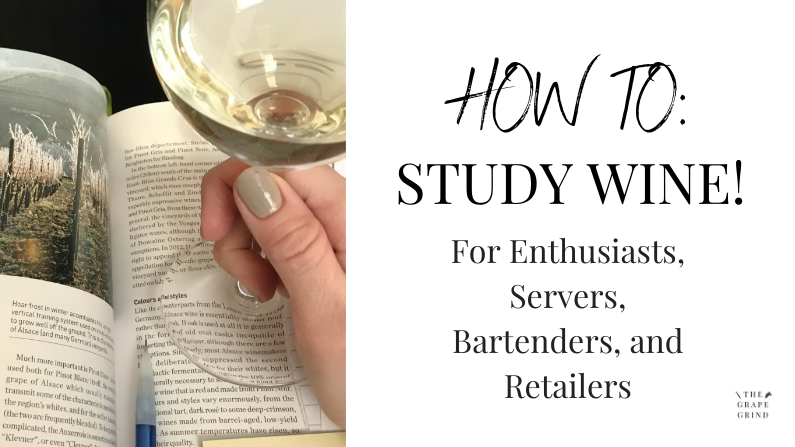 How to Learn about Wine + Where to begin
You love wine. Maybe you have been drinking it for years and want to branch out and learn more about it. Maybe you want to become a better wine buyer or learn how to read wine lists at restaurants. Maybe you work in a restaurant and want to better your beverage skills and possibly learn how to become a Sommelier (this is me!). Maybe you are in the beverage industry and contemplating taking an exam to help you excel in your department. Whatever it is, I bet you are wondering…
That is one question a lot of people ask when they are interested in learning about wine. There's a lot of wine information out there and starting the wine journey can be completely overwhelming! What resources do you need once you decide you are all in? What do you need to start reading? How are you supposed to organize the information you learn?
The first decision involves deciding to do COURSEWORK, EXPERIENCE, or BOTH? (I recommend both.) Are you interested in a wine-related career, or is this just a hobby? If you aren't involved or interested in a wine-related career and are just doing this as a hobby, you'll probably be okay just doing coursework. I know plenty of people that have jobs outside of wine and study it for pure enjoyment. Nothing replaces experience, however. If you want a wine-related career, you MUST have experience and should be doing coursework along with this!
The second decision (involving experience) is RETAIL vs. SERVICE. Do you want to stock, learn, recommend, and sell wine in a store (retail), or do you want to recommend, pour, and pair wine with food in a restaurant setting (service)? It's possible you are already involved in one of these, but if you don't have experience already, take the time to find the right restaurant or store to work in. It is essential to find a place where standards are high and wine is clearly important. Find a place where there are people who know more about wine than you! You will use/need these people as mentors! 
Now that you have made those big decisions, here are…
1. Seek out an exam to study for
You can choose to read books and learn about wine on your own, at your own pace, or you can study for a certification. The most accredited certifications or courses are through The Court of Sommeliers (which I'm currently pursuing) or The Wine and Spirit Education Trust. The first is more geared to the service industry, while the second is more geared to the retail industry. For a bullet point list of what these (and a few other) certifications entail, click the button below!
This is where everyone will tell you to start. "Read books and take notes!" It sounds so easy, but what books do you read? It really depends on what level you are at. For complete beginners, I recommend Windows on the World: Complete Wine Course by Kevin Zraly. If you are a little more advanced, The Wine Bible by Karen Macneil is a great resource. 
Click below for a list of all my wine book recommendations. 
Everything you learn should be separated into topics. If you know nothing about wine start by learning viticulture and vinification (there are plenty of books and online articles to learn from!). Learn the parts of a wine grape and how to taste wine, then move into classic varietals and regions. I have my wine notes organized by regions and include the following topics. Every time I learn something new, I add it under one of these main topics.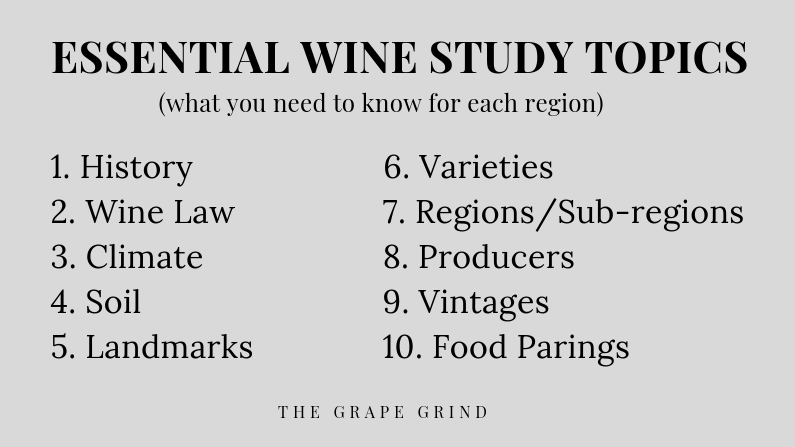 I recommend a binder for every country! If you are just starting out, you may just need one binder with tabs that separate each country. I include all the essential topics in my binder notes, and I can continue to add to them as I learn more. I also have maps of each region and subregion. Maps are a visual learner's best friend! Print out a map and bullet point important varietals, landmarks, soil, weather, etc. right on the map wherever it makes sense. Whatever you don't want to forget, just put a note right on the map! Sometimes if I need a brief review of a region, I pull out a map and everything important I should know is right there! I download my favorite maps from The Society of Wine Educators blog.
Once you have a good amount of information studied, it's time to get some notecards and start copying information onto them to quiz yourself! I keep my notecards in big ziplock bags labeled by country/region. You can also use the Quizlet app for easy access! There is so much to learn about wine that being organized is crucial! Get in the habit!!!
5. Taste, taste, and taste some more!
It's impossible to really understand wine varietals unless you are constantly tasting them! Tasting MUST become part of your routine! (That shouldn't be too hard if you enjoy drinking wine!) First of all, it's important to understand acid, alcohol, tannin, and body! Once you understand these terms, think about them and take notes on them for every wine you taste. Then start including flavors you taste in the wine. Keeping a journal is a great way to document what you taste and learn your palate. You can buy wine tasting journals or notebooks to use!
Tasting two wines next to each other is a great way to calibrate your palate. You can make better associations and differentiate by tasting wine side by side! 
Working in the industry also helps with learning to taste, because you have more bottles readily available. You could also be invited to trade shows/events where different styles of wine are poured. It's important to remember to 'spit' at these, which I know sounds like a waste, but it's hard to seriously taste wine if you aren't in the right frame of mind. There will be time for consumption after!
Need more opportunities to taste? Start a tasting group! Use resources like Facebook and Meetup. There's also a way to find people in your city on Guildsomm! 
6. Learn how to serve wine correctly
If you are interested in working in a restaurant or becoming a Sommelier, learn how to properly serve wine and champagne! There should be plenty of opportunities for you to learn this at work, but if not, watch videos and practice on friends or family! If you aren't planning on working in the restaurant industry, this may not apply, although it's good to recognize classic wine service for what it is!
There you go! The more you push yourself and hold yourself accountable with each of these steps, the further you will go with your knowledge. Maybe you are considering doing something greater than just working in a restaurant or maybe you are intrigued by wine and want to learn it as a hobby. Either way, adopt some of these practices and follow them daily!