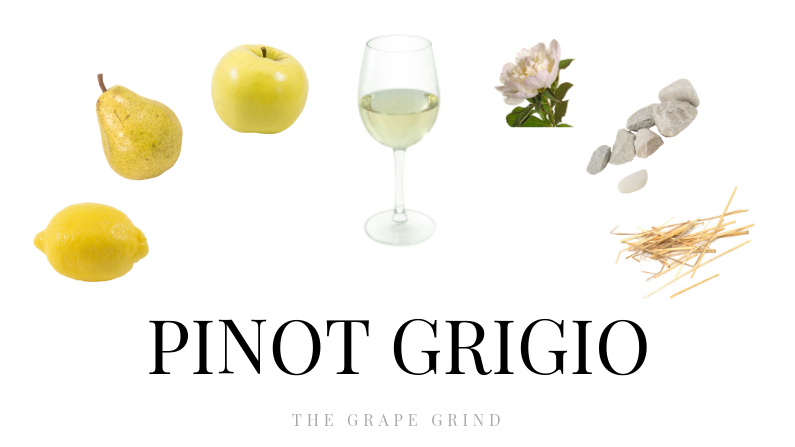 All you need to know about Pinot Grigio: A quick guide
Pinot Grigio was once described to me as the white wine with no defining characteristics (as in if you taste a white wine, and there's nothing about it that stands out, it's probably Pinot Grigio). This can hold very true in some cases, but recently I have tasted some great examples that have really blown my mind in how complex, luscious, and mouthwatering they are. I've really been loving on Pinot Gris (the same variety, but found in France and Oregon), which has a little more body and richer fruit flavors. Generally, this wine is crisp and bright and seems to please most white wine lovers, so let's get to know it a little more!
The following guide will illustrate what Pinot Grigio tastes like (aroma, flavor, and structure). It will also tell you where it's from, provide you with common food recommendations, top producers, similar varieties, and let you know why you should be drinking more of it!
How would I describe Pinot Grigio?
Simple
 You typically know what you are getting into when you drink Pinot Grigio. It's known for being a pretty simple and bright white!
Crisp
Pinot Grigio is pretty much never oaked, creamy, or heavy in body. The classic expression from Italy is known to be crisp and refreshing.
Classic
As one of the most popular white varieties, Pinot Grigio has a lot of history and grows in many places around the world. It's about as classic as it gets!
What does Pinot Grigio taste like?

These are the most familiar tastes and aromas I typically find in a glass of Pinot Grigio. It's also common to find lime, green apple, peach, honey, almond, floral, saline, and spice notes (I even get banana sometimes!), depending upon where the wine is from, and how it is made. Remember, wine tastes are somewhat relative. There may be some different tasting notes you consistently find while drinking Pinot Grigio.
There is no "one size fits all" when it comes to structure for every grape, however, there IS a general range when it comes to body, acid, alcohol, and tannin for each. Below are general guidelines for classic representations. Growing conditions and winemaking techniques can impact each of the following.
Medium Minus Body
Think of that weight as a liquid scale, from water (light body) to heavy cream (full body) in your mouth. Pinot Grigio is on the lighter side (although Pinot Gris is often fuller)!  

Medium Plus Acid
You can judge acidity based on whether your mouth waters after you take a sip of something. The more you salivate, the higher the acid. Pinot Grigio has a decent amount of acid, usually medium to medium plus. 

Medium Alcohol
You can feel alcohol 'burn' the back of your throat when you take a sip. Pinot Grigio is pretty balanced in alcohol. 

Where is Pinot Grigio from?
Italy
Primarily in
Friuli, Veneto, Trentino, Alto Aldige, and Lombardy
It's fair to say Pinot Grigio is Italy's white wine. It will taste different depending on the sub-region, but in general will be bright and acidic. Some like to say it's like drinking a glass of refreshing lemonade (though not so sweet!). Italy is known for the classic expression of Pinot Grigio, which is lighter body, high acid, and flavors of lemon, lime, green apple, minerality, and salinity.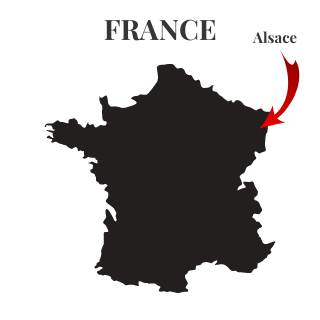 France
Primarily in Alsace
Here, the variety is known as Pinot Gris and it is very different than what you would taste in Italy! Pinot Gris was born in Burgundy, however, it makes it's home in Alsace. This northern region in France is cooler, but the elevated vineyards get a lot of sunshine, which results in a higher concentration of fruit. Pinot Gris from this area will have more body and alcohol, and less acidity. The wines will show flavors of ripe yellow apple, peach, pear, and sometimes notes of honey and ginger or spice. Alsace is also known for Vendange Tardive (or late harvest) styles which will drink like sweet dessert wines!
You can also find wonderful Pinot Grigio from The USA (Oregon), Germany, Australia, New Zealand, Austria, and Hungary
What foods should I pair with Pinot Grigio?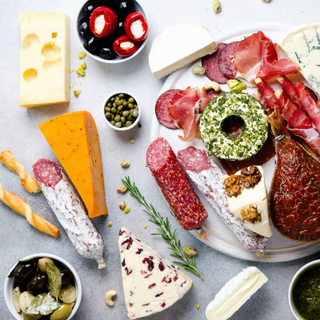 Why?
Creamy cheeses, salty olives and meats, sweet or tart fruits and jelly…. all of these are a great match with Pinot Grigio. There's something to be said about salt and this varietal. There's a salinity note to the wine itself, but salt also tames acidity, which makes the food and wine taste pretty extraordinary together.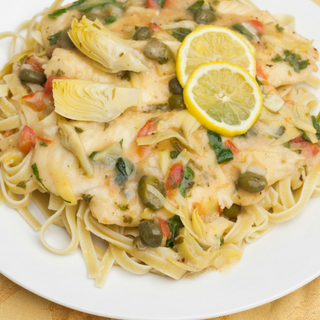 Why?
SO SO delicious. Try this with an Alsatian or U.S. Pinot Gris! Due to the sauce being a little heavier, a creamier style of Pinot Gris is best. Once again, the flavors of lemon and salt in the dish are complemented by the characteristics of the wine.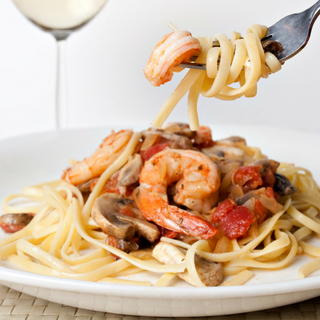 Why?
Shellfish + Pinot Grigio = classic pairing.
Light wines pair well with light protein. The combination of shrimp, lemon, and butter are a perfect match with the citrus flavors and higher acidity in Pinot Grigio. Italian styles are best with this dish!
What other similar varieties would I enjoy?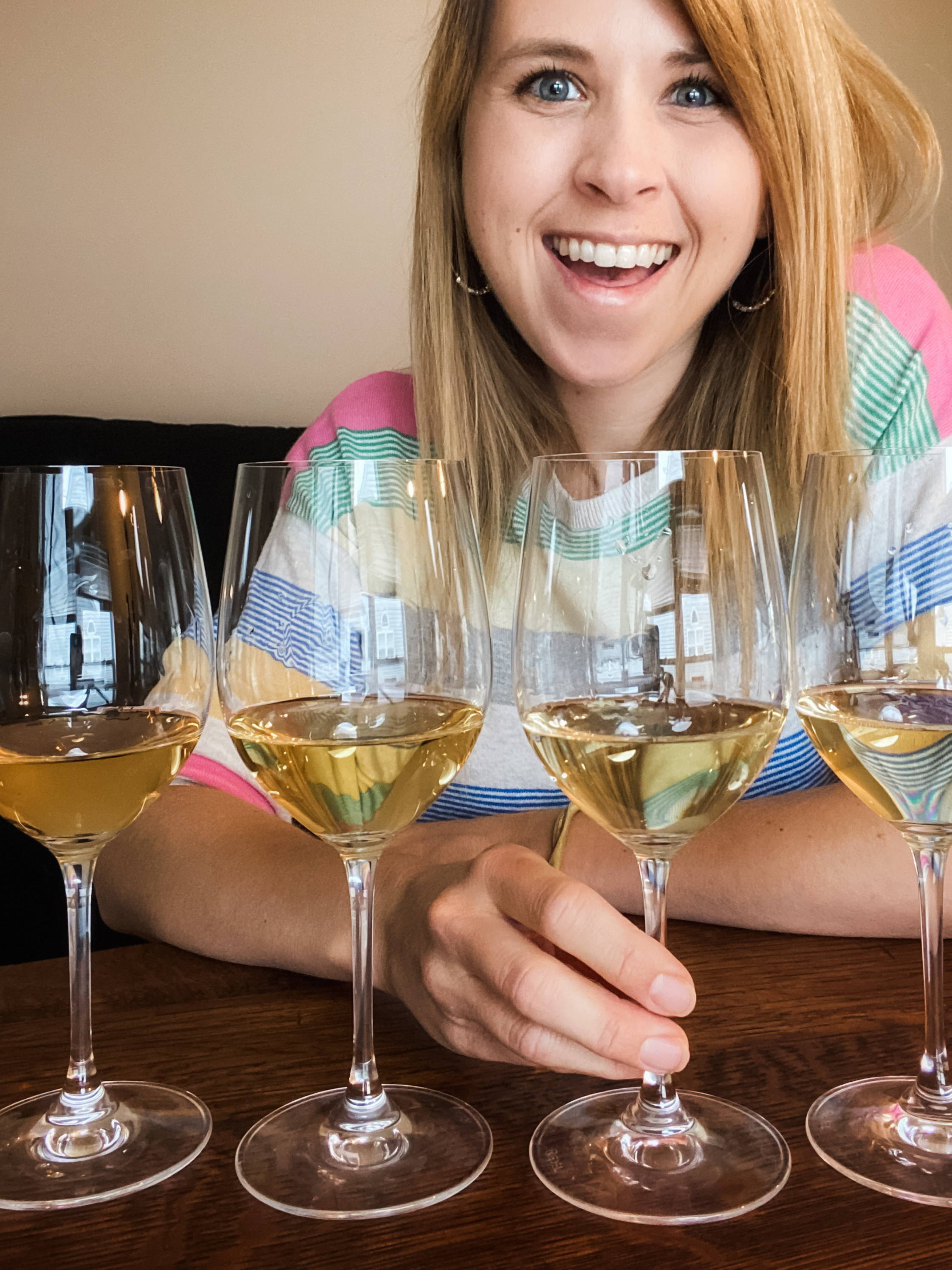 A Certified Sommelier and Certified Specialist of Wine with a passion for everything wine + beverage!