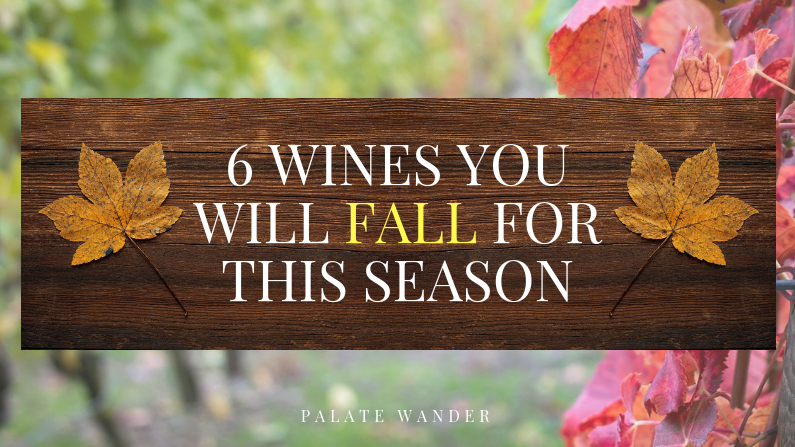 The days are getting shorter, the evenings a little more crisp, and there's a few trees starting to give off that orange and yellow glow that we all love so much! Fall is a marvelous time for wine lovers. It's a great time to visit vineyards, because of less traffic and slightly cooler, glorious weather. It's generally when harvest is taking place, and it's also when many new bottles/vintages are released for the upcoming holiday season. Crisp whites and light juicy reds start to get replaced with wines that have a little more body and complexity. 
So what wines should you drink when you feel fall making its grand entrance? Well, there's always a place for Chardonnay and Pinot Noir as transition wines from summer to winter, but these next 6 varietals also shine for the season! Check them out this October!


If you are a Chardonnay lover, you are likely to also love Viognier. This is a medium to full bodied white that is lower in acidity and richer in alcohol. It's delightfully perfumed. You'll find notes of apples, pears, and apricots along with notes of vanilla and spice. It's a dry wine, that is generally aged in oak, but can also see stainless steel. Viognier can be found in California, Washington, Australia, and some of the best, from Condrieu in the Northern Rhone region of France. These phenomenal wines taste just like a bite of apple pie (without all the sweetness). Viognier is creamy, apple-y, and perfect for fall.


You will often see this varietal blended with Sauvignon Blanc. Semillon actually smells a lot like Sauvignon Blanc, but it is much smoother, richer tasting, and slightly fuller bodied. You will find notes of citrus and honey, with some herbal and floral flavors. Although sometimes blended, Semillon can make some very enjoyable wine on its own. Look to France or Australia for some of the best representations. In France, Semillon is used in Bordeaux Blanc for dryer styles and in wines labeled Sauternes and Barsac (sub-regions within Bordeaux) as sweeter styles. Washington is also making some delicious bottles and California is following the trend. These are great fall sippers.


Pinot Gris is the same grape as Pinot Grigio, although wines that are labeled Pinot Gris are largely different in style. You will find a lot of the same tasting notes in Pinot Gris bottles, but there's usually more body and complexity to the wine. Pinot Gris tends to have less bracing acidity and is sometimes just a bit sweeter than Pinot Grigio. You'll find notes of apple, citrus, peach, wet rocks, wool, and honey. The best examples can be found in the Alsace region of France. (They range in style from bone dry to the sweetest in the world!) Oregon makes wonderful Pinot Gris as well. This is an elegant as well as luscious wine that I love to drink in the fall.  


Known as Grenache in France, or Garnacha in Spain, this wine is juicy and delicous. Grenache is lighter in color and full of fruity flavors, but also high in alcohol and body. You will find notes of strawberry, cherry, raspberry, hibiscus, gravel, licorice, and vanilla.  The best are found in the Southern Rhone region of France (specifically Chateauneuf-du-Pape). They are also often used in blends in southern France, labeled GSM blends (Grenache, Syrah, Mouvedre). Priorat in Spain is known for delicious Garnacha and California is also producing a lot more lately. This wine is perfect for transitioning to full bodied reds. 


If you have had Bordeaux, you have probably tasted Cabernet Franc, as it is one of the main grapes in Bordeaux blends (the others being Cabernet Sauvignon and Merlot). It is a parent grape of Cabernet Sauvignon! It's similar, but not as big and powerful. Cabernet Franc might be one of my favorite red varietals. It's medium to full bodied and full of complex flavors. You will find notes of dark berries and raspberry, along with vegetal/leafy notes, cedar, and spice. Cabernet Franc can be grown in both warm and cool climates. It is found in Bordeaux (primarily right bank) along with The Loire Valley. Great examples are also found all over the US, in California, Washington, Virginia, and New York!   


Primitivo and Zinfandel are practically the same grape (they share the same DNA). Primitivo is found in Italy however, and I find this style to be slightly different in taste! This varietal is darker in color as well as flavor. It is medium bodied and has a good amount of tannin and acid. You will find notes of blackberries, raspberries, plums, blueberries, and slight spice and minerality. Primitivo is hearty and perfect for transitioning into the cooler weather!  


Grenache
Domaine Du Pere Caboche
From: Chateauneuf-du-Pape (Southern Rhone in France)
Notes of strawberries, herbs, and vanilla

Cabernet Franc
Tamarack Cellars
From: Columbia Valley, Washington
Notes of raspberry, plum, smoke, and spice